Come and Meet
Our Animals
Discover the animal kingdom in Central Virginia!
From tiny turtles to massive rhinos and everything in between,
all types of wildlife live at the Metro Richmond Zoo. 
species from around the world
We take the responsibility to care for and conserve animals very seriously
Commitment to Care
The health and safety of our animals is our #1 priority. 
All animals at the zoo have access to food, water, and shelter at all times and enrichment items to interact with. Our animal care professionals care for the animals 365 days a year, and the zoo has an on-site animal hospital for veterinary staff to administer medical care as needed. The exhibits at the zoo are spacious and designed to mimic the animals' natural habitats.
The Metro Richmond Zoo is accredited by the Zoological Association of America. By visiting a ZAA-accredited facility, you can have confidence the zoo upholds the highest levels of professional standards in animal welfare, safety, and ethics.
Commitment to Conserve
The Metro Richmond Zoo works with many zoos and conservation programs around the world to protect endangered and threatened species.
The animals at the zoo act as animal ambassadors for their wild counterparts to help inspire people to care about the survival of our planet's wildlife.
The zoo is well known for our successful conservation programs for cheetahs, African penguins, and Diana monkeys.
Here are some of the species that call the Metro Richmond Zoo home. Start planning which animals you want to see first.
Featured Animals
These popular animals have their own pages for updates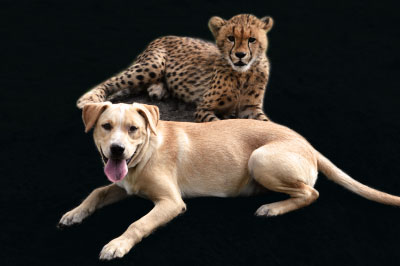 On Exhibit
Kago, a lab mix dog, was raised with Kumbali the cheetah to provide companionship for Kumbali after he had to be hand-raised for his survival.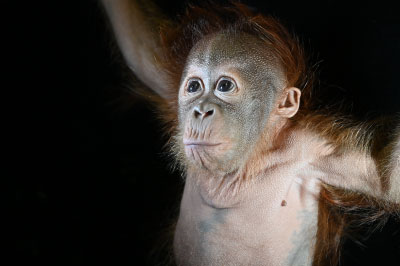 Not On Exhibit
After being neglected by his parents, this baby orangutan is being hand-raised by animal care professionals at the zoo.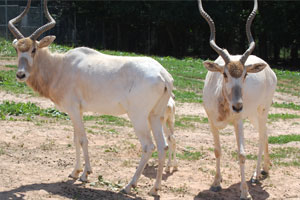 ADDAX
Critically Endangered
The addax is one of the world's rarest mammals with less than 250 in the wild. The addax is well adapted to life in the desert.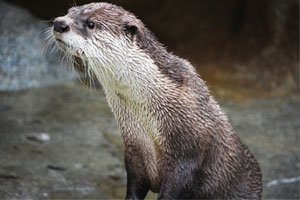 AFRICAN CLAWLESS OTTER
This is the third largest otter species. Most of their time is spent swimming and playing. Their hands are clawless and their feet are partially webbed.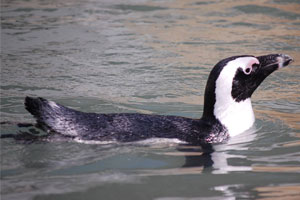 AFRICAN PENGUIN
Endangered
When hunting for food, the African penguin can dive to depths of 114 feet, hold its breath for 2.5 minutes, and reach speeds of 25 mph.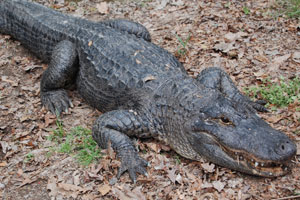 AMERICAN ALLIGATOR
The American alligator is the loudest crocodilian. During breeding season, a male's roar can be heard 500 feet away.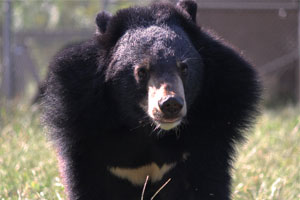 ASIATIC BLACK BEAR
Vulnerable
These bears have an acute sense of smell, which is better developed than their sense of sight and hearing.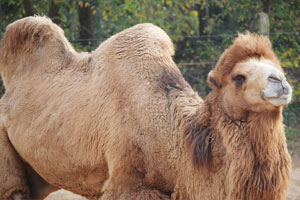 BACTRIAN CAMEL
Critically Endangered
There are over 2 million Bactrian camels in the world, but only 950 are left in the wild in Asia. Camels can drink 32 gallons of water at once.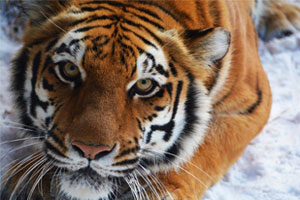 BENGAL TIGER
Endangered
The Bengal tiger is native to Nepal and Southern Asia. Their stripes are like fingerprints; no two patterns are the same.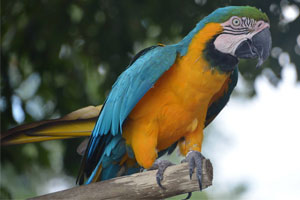 BLUE AND GOLD MACAW
These macaws are one of the larger macaws, measuring around 33 inches from head to tail tip with a wingspan of 3.5 feet. They can live over 35 years.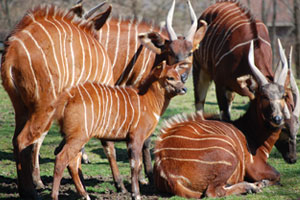 BONGO
Critically Endangered
 Bongo are native to Africa and live in small herds. They have prehensile tongues that aid in pulling leaves from branches.
BRAZILIAN TAPIR
Vulnerable
The tapir is a shy animal native to the rainforests of South America. They weigh up to 600 pounds.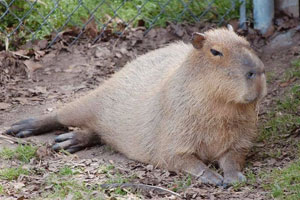 CAPYBARA
The capybara is native to Central and South America. They have partially-webbed toes which aid them while swimming. They can stay totally submerged for up to 5 minutes.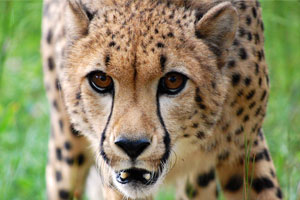 CHEETAH
Endangered
The cheetah is the fastest land mammal on the planet. They can accelerate to 70 mph in just a few seconds.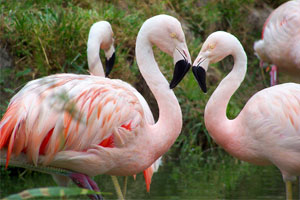 CHILEAN FLAMINGO
The flamingo's trademark pink feathers get their beautiful color from the beta carotene found in the food they eat. Flamingos are social birds that prefer to live in groups.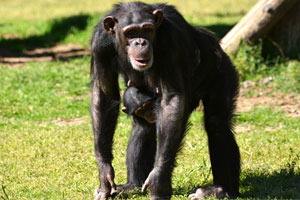 CHIMPANZEE
Endangered
Chimps are very intelligent, social animals that are capable of problem solving, tool use, organized hunting, empathy, and deceit.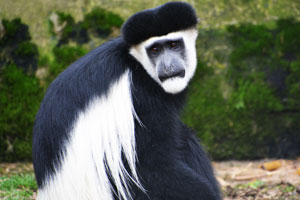 COLOBUS MONKEY
Critically Endangered
Baby Colobus monkeys are born all white with pink faces. By three months old, they get their black and white adult coloring.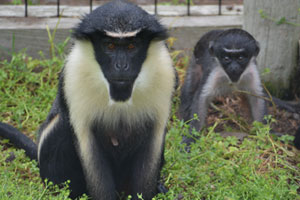 DIANA MONKEY
Endangered
The Diana monkey is native to Western Africa. They can pack their cheek pouches with the equivalent of a stomach's worth of food.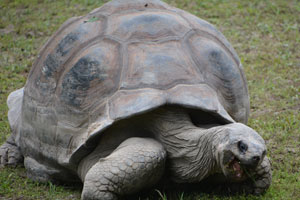 GALAPAGOS TORTOISE
Endangered
The Galapagos tortoise can weigh up to 700 pounds. They oldest Galapagos tortoise lived to 183 years.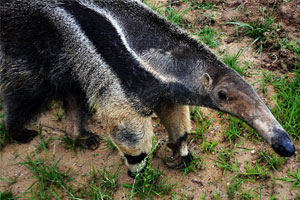 GIANT ANTEATER
Vulnerable
Giant anteaters have no teeth and very limited jaw movement. They swallow more rapidly than most other mammals and can lap up 35,000 ants in a day.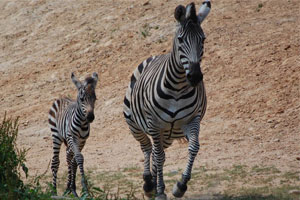 GRANT'S ZEBRA
Zebras can reach speeds of 50 mph. The stripes of the zebra are unique to each individual, much like a human fingerprint. They can weigh up to 785 pounds.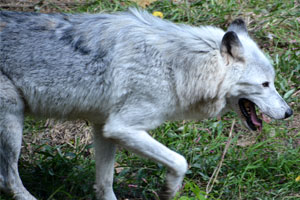 GRAY WOLF
The Gray wolf is the largest member of the family Canidae. A wolf's howl can be heard up to 6 to 7 miles away in wooded areas. They are highly social animals.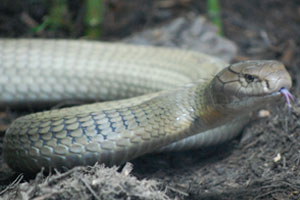 KING COBRA
Vulnerable
The King cobra is native to Southeast Asia and Indonesia. They are the longest venomous snake species in the world, measuring up to 18.5 feet.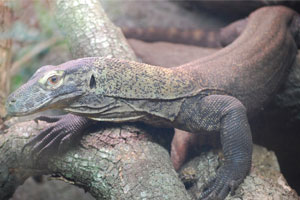 KOMODO DRAGON
Endangered
The Komodo dragon is the largest living lizard species. They can measure up to 10 feet long and weigh up to 200 pounds. Their teeth are designed for cutting through flesh of prey.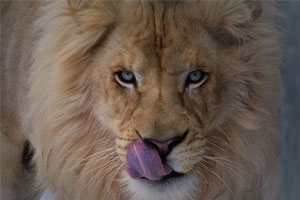 LION
Vulnerable
Lions are known for their strength; they can knock down prey 3 times their size. They are very high on the food chain and have no natural predators.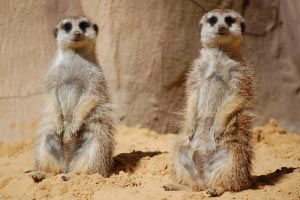 MEERKAT
Meerkats are native to African deserts and they are able to close their ears to keep dirt out. They also have a third eyelid that helps protect their eyes from sand.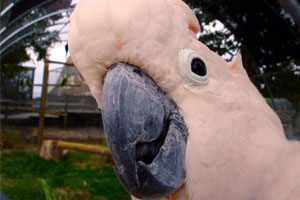 MOLUCCAN COCKATOO
Vulnerable
Moluccan cockatoos are native to Indonesia and are the largest of the "white" cockatoos. With good care, they can live up to 80 years.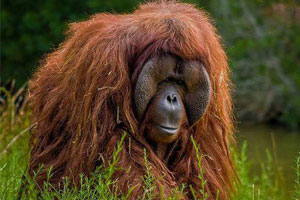 ORANGUTAN
Endangered
Orangutans are the most arboreal of the great apes. Their arms are twice as long as their legs. A female will give birth every 6-7 years.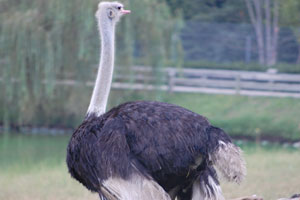 OSTRICH
The ostrich is the largest, heaviest, and fastest bird in the world. They can weigh up to 330 pounds and run 45 mph. The ostrich is the only bird with just two toes.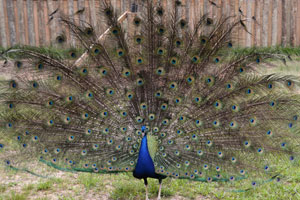 PEAFOWL
A male peafowl is known as a peacock while a female peafowl is called a peahen. Their impressive feathers can be 3 to 7 feet long. Peafowl are native to India.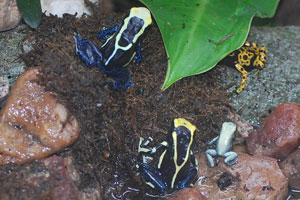 POISON DART FROG
Poison dart frogs are native to the tropics in Central and South America. The frogs' bright colors help ward off predators. There are over 100 species of these frogs.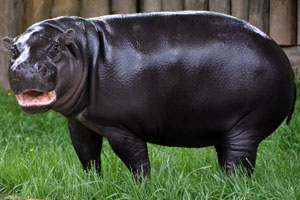 PYGMY HIPPO
Endangered
The Pygmy hippo is a reclusive, nocturnal animal that is native to the swamps and rivers of West Africa. They can live up to 55 years.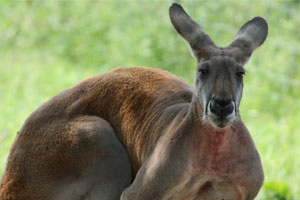 RED KANGAROO
The Red kangaroo is the largest marsupial in the world. A baby kangaroo, called a joey, is born hairless, blind, and less than an inch long.
RETICULATED GIRAFFE
Endangered
The majestic giraffe is the tallest of all land mammals, reaching heights of 20 feet. Their gestation period is 15 months long.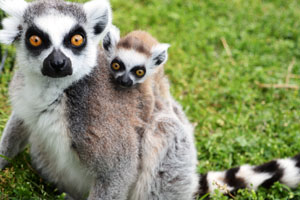 RING-TAILED LEMUR
Endangered
Like all lemur species, the Ring-tailed lemur is native to Madagascar. Lemurs are prosimians, not monkeys.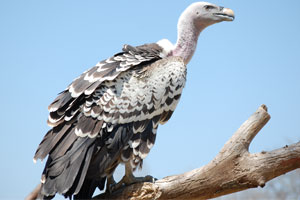 RUEPPELL'S GRIFFON VULTURE
Critically Endangered
This vulture holds the title for being the highest flying bird in the world. Their record is 37,000 feet.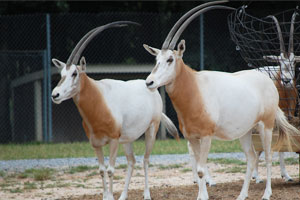 SCIMITAR-HORNED ORYX
Extinct in the Wild
The Scimitar-horned oryx was once native to North Africa. The females' horns are longer than the males'.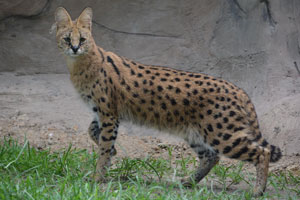 SERVAL
The serval has the largest ears, in proportion to its body, of any cat species. They are native to the savannas and forests in Sub-Saharan Africa.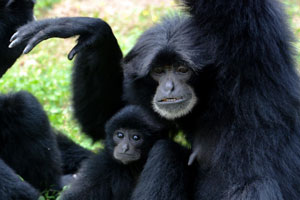 SIAMANG
Endangered
The siamang has one of the loudest calls of all primates. They vocalize duets that can be heard for miles.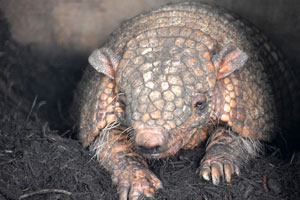 SIX-BANDED ARMADILLO
Armadillos are very good diggers because of their powerful legs and sturdy claws. They have between 6 and 8 armored bands around their middle.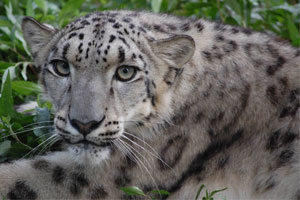 SNOW LEOPARD
Endangered
Snow leopards are one of the most agile of all the big cats. They are quick and can leap up to 50-foot distances.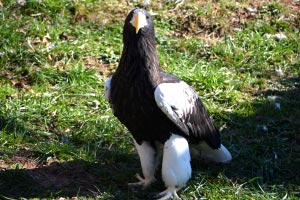 STELLER'S SEA EAGLE
Vulnerable
The Steller's sea eagle is one of the largest eagles in the world. Females are larger than males and can weigh up to 20 pounds. They are native to Siberia.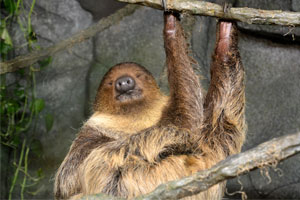 TWO-TOED SLOTH
Sloths sleep about 15 hours per day and move very slowly when they are awake. They have a very slow metabolism. Food may take up to one month to ferment and digest in their stomach.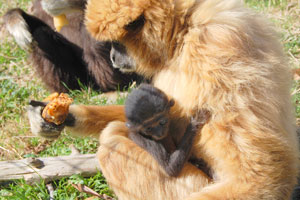 WHITE-HANDED GIBBON
Endangered
The gibbon's main locomotion is brachiating, swinging hand over hand through the branches.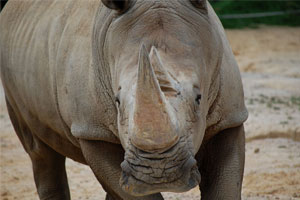 WHITE RHINO
The White rhino is native to the plains of Africa. They are the second heaviest land mammal; they can weigh up to 6,000 pounds. A group of rhinos is called a crash.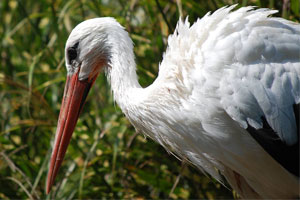 WHITE STORK
White storks are migratory birds that fly to Africa or India for their winter months. White storks mate for life, but the pair splits up during migration and for the duration of the winter.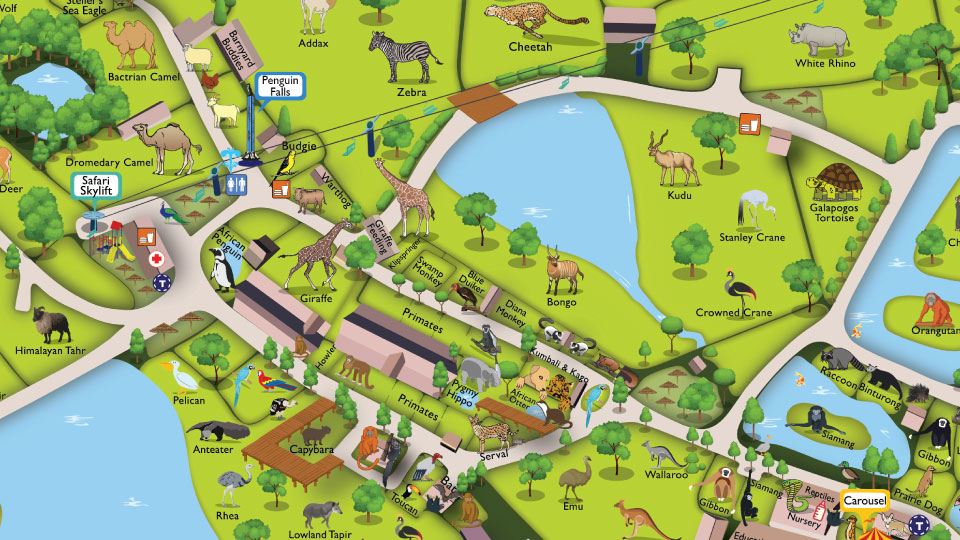 SEE WHERE THE ANIMALS LIVE
Zoo Map
Start planning your adventure today
SEE WHERE THE ANIMALS LIVE
Zoo Map
Start planning your adventure today