Listen up
We have news to announce!
Welcome to the Metro Richmond Zoo's newsroom. Here you will find copies of the zoo's latest press releases and other announcements in a blog format. 
Media Resources
If you are a member of the media please contact Taylor, our Communications Manager at [email protected] for the following needs:
Schedule a visit for a story
Receive an official press kit
Access high-quality images or video
Request to be added to our media mailing list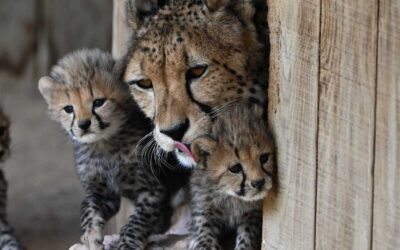 The Metro Richmond Zoo is proud to report a successful year for cheetah conservation. In 2022, 19 cheetah cubs from 6 different litters have been born at the zoo so far. This is the greatest number of cubs born in a single year in the zoo's history. The 19 cubs were...
Metro Richmond Zoo in the News
Run Wild! Metro Richmond Zoo holding race to save endangered cheetah
September 1, 2022 | WRIC8
Metro Richmond Zoo welcomes 19 cheetah cubs in 2022
August 18, 2022 | NBC12
19 cheetah cubs born at Metro Richmond Zoo
August 18, 2022 | RICHMOND TIMES DISPATCH
Oldest African penguin in the world turns 42 at Metro Richmond Zoo
January 29, 2022 | WRIC8
Doctor performs root canal on chimpanzee at Metro Richmond Zoo
January 25, 2022 | NBC12
This Virginia zoo really got a hippopotamus for Christmas
December 25, 2022 | CNN
Zoo welcomes over a dozen new cheetah cubs
May 2, 2016 | FOX & FRIENDS
A cheetah and a pup become best friends at the Metro Richmond Zoo
October 8, 2015 | TODAY
Cheetah-Dog Friendship Isn't As Strange As It Sounds
October 7, 2015 | NATIONAL GEOGRAPHIC
This Newborn Giraffe Is Probably Taller Than You
April 23, 2014 | ABC WORLD NEWS NOW